PRODUCTS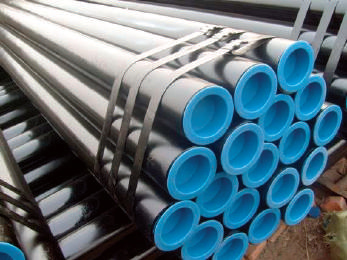 PIPES & TUBES
MATERIALS: Carbon Steel, Stainless Steel, Low Temp, Alloy Steel, Duplex /Super Duplex, Special Alloys/ Nickel Titanium Alloys In Seamless & Welded. (Dimensional / Tolerance Standard Asme, Ansi B36.10/B36.19)
MATERIAL GRADES
API5L/A106/A53 GR B, X42, X52, X56, X60, X70,X80 (PSL1 & PSL2)
ASTM A333 GR 6, A671 GR CC60 /CC65/CC70,CL 12, 22
A335 GR P1/P5/P9/P11/P22
ASTM A312-TP316/316L & TP 304/304L, 321
ASTM A790, ASTM A928, Nickel 200/Nickel201/Monel-400/ Monel-600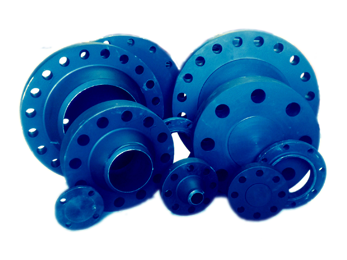 FLANGES
ASME Flanges in Carbon Steel, Stainless Steel, Alloy Steel & other Steel Grades in Class # 150 to Class # 2500 & the sizes from-1/2" to 60", API Flanges from Class 2000-20000 & DIN Standard flanges in PN10, PN 16 & PN 25
TYPE OF FLANGES:
WNRF, BLIND RF, SORF, SWRF, Threaded RF, RTJ Flanges, Long Weld Neck Flanges, Nippo Flanges, Reducing Flanges, SWIVEL Flanges, ORIFICE Flanges, & Anchor Flanges.
MATERIAL GRADES
ASTM A 105 N, ASTM A 350 LF2 & LF3
ASTM A 182 F 304 /304L, F 316/316L, F 321, F 347, F44, F51
ASTM A 182-F5, F5A, F9, F11, F12 &F22,
ASTM A 694 F 42, F52, F60, F65
Nickel Alloy Flanges & Copper Alloy (Cu-NI) Flanges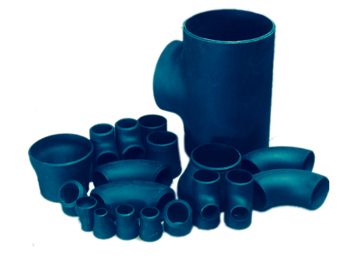 BUTT WELD FITTINGS
Carbon Steel, Stainless Steel & Other Steel Grades size from ½"- 24" in Seamless & above up to 60" in Welded.
TYPE OF FITTINGS
Elbows (90°/45°/180°, 1.5D, 3D, 5D Bends), Equal & Un Equal Tee, Lateral Tee, Barred Tee, Cross, Concentric / Eccentric Reducers & Cap.
MATERIAL GRADES
ASTM A234 WPB, ASTM A420 WPL 6, WPL3, WP5, WP9, WP11, WP22
ASTM A403 304/304L, 316/316L, WP321, WP347, WPS31254
ASTM A815 UNS31803, UNS 32750& UNS 32760
ASTM A860 WPHY-42, 46, 52, 60, 65 & MSS SP75-WPHY 46, 52, 60, 65.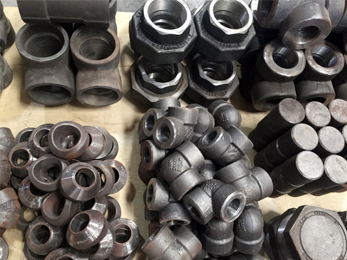 FORGED FITTINGS
Carbon Steel, Stainless Steel, Alloy Steel & Duplex/ Super Duplex Steel Grades size from 1/2"- 4"
TYPE OF FORGED FITTINGS
Elbow, Tee, Reducing Tee, Cap, Bushing, Coupling, Union, Boss, Plug, Nipple, Barrel Nipple, Street Elbow, Weldolets, Sockolets, Elbow lets, Flangolets, Threadolets, Latrolets & Swage/Hex Nipples. (Class # 3000, # 6000, #9000) (SW, NPT & BSPT).
MATERIAL GRADES
ASTM A105N, ASTM A350 LF1, LF2, LF3, ASTM A 182 F5, F9, F11, F22, F91
ASTM A182 F316/316L, F 304/304L, F317, F321, F347, F304H, F44, F51 & F53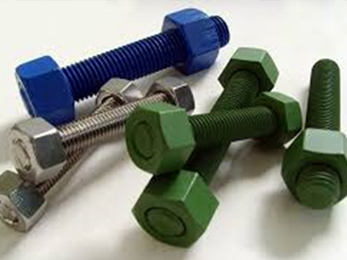 BOLTS, NUTS & WASHERS
Alloy Steels, Stainless Steel, Carbon Steel, Exotics, Duplex/Super Duplex, Monel, Brass, Nylon etc.
TYPE OF FASTENERS
Stud Bolts, Hex Bolts, Nuts, Washers, Anchor Bolts, in Bare Condition, Galvanized, Cadmium Plated, Chrome Plated, HDG etc.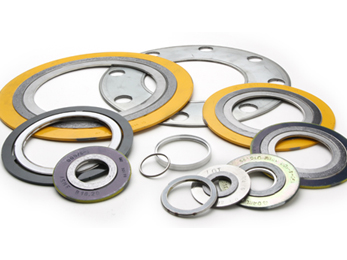 GASKETS
Gaskets (Spiral Wound) Ring Type (Oval/Octagonal)- CNAF/Gasket Sheets/Neoprene Rubber)
Grades : i) ASTM A182 304/304L,316/316L
Spiral Wound Gaskets
Ring Joint Gaskets
Insulation KITS
Asbestos / Non Asbestos Gaskets
Expansion Joints
Heat Exchanger Gaskets
Rubber Gaskets
Compression Packing's etc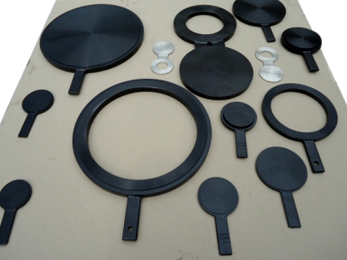 SPECTACLE BLIND / SPADE / SPACER
Materials:
Carbon steel
Low temperature carbon steel
High yield carbon steel
Stainless steel
Classes
150 lbs up to 2500 lbs
Standards
ASME B.16.5
ASME B.16.36
Sizes:
1/2" up to 60"
Joint faces
RF / RTJ